New icon highlights eco-certified lodgings in AAA travel information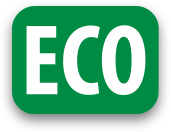 In response to growing member interest in green hotels, AAA is launching a new program to highlight AAA Approved lodgings that have been eco-certified through a well-established government or private program.
A green "ECO" symbol makes it easy to identify eco-friendly lodgings in the new 2010 editions of the AAA TourBook guides and on AAA.com. Additionally, travelers will be able to customize their hotel searches on AAA.com to show green properties first in their search results.
"The new ECO symbol lets AAA members know that a property has taken steps to become an environmental advocate," says Marie Dodds, Public Affairs Director for AAA Oregon/Idaho. "We're pleased to publish this information as a service to members who make sustainability a factor in their lodging selection."
Doreen Loofburrow, Director of Travel for AAA Oregon/Idaho says, "Words such as "eco-friendly," and "green" are frequently used in the hospitality industry. The new ECO symbol will help travelers identify the most environmentally friendly lodgings." She says travelers often request "green" hotels and want to know if the property is doing more than just implementing a towel recycling program. At the same time, travelers still crave value. Loofburrow adds, "Listing our Eco-friendly properties together with all approved locations allows you to make a decision not only based on "green" status, but also location and price. With all else being equal, a large number of travelers will choose a green option."
The ECO symbol applies to all types of lodging at every AAA Diamond level. Loofburrow says, "The ECO symbol doesn't mean you need to spend more, or sacrifice amenities. You'll be able to find eco-friendly, budget-minded properties that are rated at Three Diamonds, all the way up to the most exclusive Five Diamond destinations."
The ECO icon is one of many used in the TourBook/AAA.com lodging listings as a tool to help members select their ideal accommodations. The symbols depict guest services, leisure activities, in-room amenities and safety features that members say impact their hotel selection and satisfaction.
AAA is not involved in the evaluation of any property's environmental practices, but provides this information from recognized organizations as a service to members. The eco-certification programs used include Green Globe, Green Key, Green Seal, Leadership in Energy and Environmental Design (LEED), Sustainable Travel International, and Energy Star. Additional information and a list of recognized certification programs are accessible at AAA.com/eco.
AA Oregon/Idaho supports several "green" efforts. This year, AAA Oregon/Idaho became the first AAA club in the U.S. to offer roadside assistance to bicycles. In 2008, AAA Oregon/Idaho launched DriveGreen, which unites AAA Oregon/Idaho with the carbon offset program pioneered by the national non-profit organization, Bonneville Environmental Foundation. The DriveGreen program fee offsets the emissions associated with about 5,000 miles of driving.
For more information, go to www.AAA.com.